Commercial roofs can be made from a wide variety of materials. The most common choices include PVC, TPO, EDPM, and single-ply membranes.
Have you ever noticed how different a store's roof is compared to your home? It's because they are made differently. Here's what you need to know about Orange County Roofing Inc.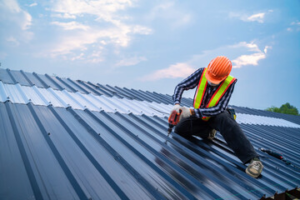 Commercial roofs are routinely exposed to damaging UV radiation, rain, high and low temperatures, and chemicals. The constant attack from the elements wears down most roofing materials and creates leaks that compromise the interior integrity of buildings.
A few decades ago, science and engineering created a new choice. This option was a fluid-applied roof coating that was elastic. This revolutionary roof system provides an extra layer of protection that greatly extends the life of the base roof materials.
Elastomeric roof coatings are applied 5 to 10 times thicker than exterior house paint. They are sprayed onto the roof, and a skilled contractor must be employed to avoid "overspray" that can damage vehicles or other structures on or near the building.
The chemistry behind modern elastomeric roof coatings is engineered to ensure the finished product can stretch and revert to its original form without breaking. These roof coatings can be made from acrylic, silicone, rubber, or urethane. Most commercial roof coatings start as a liquid and are brushed or spray-applied to the existing substrate.
When a roof is coated, it creates a smooth, watertight surface that protects the underlying material from sunlight and other environmental factors. This extra barrier extends the life of a traditional roof and allows it to be repaired before damage becomes serious.
In addition to prolonging the life of a roof, an elastomeric membrane can also reduce energy costs. This is because they are designed to reflect the sun's harmful rays. This helps lower indoor air temperatures and reduces the need for expensive HVAC equipment.
Elastomeric coatings can be used on various exterior elements, including concrete walls and floors, masonry, stucco (originally formulated for this purpose), and wood. When a coating is applied to wood, it should be done cautiously because it can trap moisture within the structure and cause decay and mold growth. However, creating an air-tight seal using a special vapor barrier made with foam or other insulation is possible.
Single-ply membranes are popular for commercial flat roofs due to their durability and long-term cost efficiency. While their upfront costs may be slightly higher than other roofing systems, they can often pay for themselves with fewer repairs and replacements in the long run. In addition, these systems are typically less expensive to install than other roofing types.
Two main types of single-ply membranes exist thermoplastic polyolefin (TPO) and polyvinyl chloride (PVC). Both systems are heat-weldable, making them easy to install and allowing the seams to expand and contract with the building. TPO offers the added benefit of having a highly reflective surface that can help reduce cooling costs.
PVC and TPO are available in black and white membranes, allowing you to select a system that suits your building's needs and climate. For instance, white single-ply membranes reflect UV rays and can reduce air conditioning costs, while black membranes are better suited for colder climates as they absorb more of the sun's heat.
One common myth about single-ply membranes is that they are easily punctured, but this couldn't be further from the truth. As with any roofing, sharp objects and debris can damage the membrane. Regular maintenance and inspections should be conducted to avoid such issues and to keep the area free of debris and other hazards.
Aside from their protection, single-ply membranes are also known for their environmental benefits. For example, they are made from recycled materials and can be repurposed at the end of their lifespan. This is a major benefit for environmentally conscious businesses looking to reduce their footprint.
Finally, these membranes are manufactured to release minimal volatile organic compounds during installation and use, which can improve indoor air quality for employees and visitors. Single-ply membranes are a great option for any business that values sustainability and environmental friendliness.
If you're interested in single-ply membranes for your business, contact AAA Roofing to discuss your options. Our experienced team is happy to answer any questions you may have. We specialize in new construction, re-roofing, flat roof repair and maintenance, and leak detection for commercial, industrial, and residential projects of all sizes.
Commercial metal roofing offers a long lifespan and durability that outperforms many other types of commercial roofs. It also withstands extreme weather conditions and other environmental factors that can impact the structural integrity of your building. Additionally, it is energy efficient and can help you save money on your energy costs by keeping warm air inside during the winter and cool air during the summer.
Metal roofs are also environmentally friendly and sustainable. They are made of recycled materials, and at the end of their lifespan, they can be 100% recycled, making them a green roofing option that aligns with sustainability goals and may contribute to LEED certification. A reputable metal roof should also come with a substantial warranty that will provide peace of mind and protect your investment for years.
MBCI metal roofing panels are an excellent choice for commercial buildings with architectural design features that require a durable, long-lasting roof. They are available in various colors, styles, and textures to complement your design. They are a great alternative to asphalt shingles and other commercial roofing systems, and they can be customized with exposed or hidden fasteners to meet your project specifications.
There are two main types of commercial metal roofs: standing seam and panel systems. Standing seam metal roofs have panels joined together with concealed fasteners, which helps create a sleek, modern look. These roofs are ideal for high-rise buildings with steep slopes, accommodating up to 1/4:12 pitches. Panel systems are a better fit for commercial buildings with flat or low-slope roofs, as they do not require the same maintenance as steep-slope metal roofs.
A metal roofing system is a viable alternative to other commercial roofing systems for new and re-roofing projects. It is easy to maintain and can last for decades with minimal maintenance, which makes it an economical option. Additionally, it is highly energy efficient, as light-colored metal roofs reflect the sun's solar heat, which can significantly reduce your cooling costs during hot summers.
Shingles are often associated with residential roofing, but they're also commonly used on commercial buildings with steep slopes. These shingles are available in various materials, including asphalt, wood, slate, ceramic, and composites like fiberglass. The good news is that shingle roofs are relatively inexpensive to install and offer a wide range of styles, shapes, and colors to match any building.
Asphalt shingles are the most common type of shingle in use today. They are made from a base layer of fiberglass or organic mat and then coated with hot, liquid asphalt. The top of the shingle is then covered with stone granules to add color and texture. While they're not as durable as some other types of roofing, they're still a cost-effective and versatile choice for commercial roofs.
You may be familiar with standard three-tab shingles, single-layered and the least durable. Architectural or "dimensional" shingles are thicker and sturdier, providing greater durability against harsh weather elements. These shingles are usually more expensive than the three-tab variety. Still, they can last up to 30 years and often come with lifetime manufacturer warranties when installed by a qualified roofer.
Metal shingles are another popular option for commercial roofing. These are similar to asphalt shingles, but they're typically made from galvalume, which offers better resistance against corrosion. They're available in several colors, and many manufacturers offer special shingles that fight algae growth or provide enhanced hail resistance in specific regions.
A metal shingle roof is worth exploring if you're looking for a durable, energy-efficient, cost-effective roofing solution. However, remember that shingle roofs require more frequent maintenance than other types of roofing.