A clean roof can be a major selling point for a home. RoofX will help you clean your roof without damaging it.
Bleach-based cleaners are easy to use and clean well, but they have harsh odors and can damage your landscaping with overspray and runoff. Consider eco-friendly cleaners instead.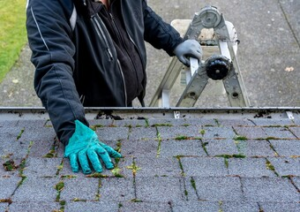 It's fairly common for debris to collect on roofs, especially those near vegetation like trees. Leaves, pine needles, twigs, branches, and other organic material fall off on a daily basis, and it can become a problem if left unattended.
Debris can cause problems for your home by blocking gutters and redirecting rainwater, and it can also promote the growth of moss and algae. You can avoid these problems by sweeping or blowing away debris regularly. A leaf blower is a great tool for this job, but be sure to use one that won't damage your roof.
You can also use a hose that's set to low pressure to clear accumulated dirt. However, it's best to hire a professional because they will have the right equipment and safety gear. They'll also know how to handle a ladder properly, and they can remove heavy debris safely.
It's important to have a professional clean your roof at least once every other year. This will help protect the integrity of your shingles and other roofing components and prevent water leaks. It will also extend the life of your roof and keep it looking newer.
A regular cleaning will also reveal any areas of damage that may need to be repaired. These repairs can be made quickly, preventing structural issues from developing and minimizing the cost of repairs. Additionally, it's a good idea to do regular roof cleaning if you plan on selling your home in the future, because this can increase its value and make it more appealing to buyers. It can also protect your home's warranty, which will be void if you don't maintain the condition of your roof.
Moss on roof tiles can be unsightly, but it also holds moisture that can rot and damage shingles. In addition, moss can clog gutters and force water to back up under and between tiles. It's best to remove moss before it spreads too far. If you don't address the issue early, moss can eventually eat through shingles and lead to roof replacement or structural damage.
Fortunately, moss is easy to kill with a little bit of effort and the right cleaner. There are many moss-killing products on the market, and most include ingredients like ammonia, copper sulfate and trisodium phosphate that are less harsh than bleach. You can buy a readymade product that's safe for roofs (like Wet and Forget Outdoor Cleaner ($33, Walmart)) or create your own at home with household products. Either way, it's important to follow the manufacturer's instructions closely and choose a cloudy day to apply the solution to prevent the sun or wind from drying it before it takes effect.
Once the moss has turned brown, it's dead and can be removed with a long-handled scrub brush or soft-bristle roof rake (available at most hardware stores). Be sure to use caution when climbing ladders, as wet moss will likely slip and fall off the shingled surface. When you're done, be sure to hose down any nearby plants to dilute chemicals that may have spilled from the roof. Once the plants are dry, it's a good idea to cover the floor of your ladder with plastic sheeting to protect it from stains and paint chips. It's also a good idea to protect your pets and children with gardening gloves while you clean the roof.
Your roof is not only essential to protect your home's interior from weather, it also adds to its curb appeal. However, dirt buildup and unsightly stains can cause it to look dull and unattractive. Fortunately, regularly cleaning your roof can help restore its aesthetic and increase your home's value.
One of the simplest and most inexpensive types of roof cleaning involves blowing off loose debris with a leaf blower. This type of cleaning is effective for removing leaves, twigs, and other organic material that can trap rainwater and encourage moss and algae growth. It is not, however, effective for addressing dirt or staining.
Another option is to use a chemical wash to eliminate moss, mildew, and lichen. These eco-friendly cleaners contain antifungal and anti-algae chemicals that penetrate roofing materials to kill these organisms, and they are typically safe for most shingles. They work gradually over a few days, and they do not require rinsing or pressure washing.
If you decide to use a chemical cleaner, it is important to take steps to protect nearby flowers, trees, and bushes from damage caused by the runoff of the cleaning solution. You can do this by covering them with plastic sheeting while you clean, or by rinsing them thoroughly before and after you spray the cleaning solution.
You can also hire a professional to perform a soft wash on your roof. This type of cleaning uses low-pressure rinsing, which is less likely to damage brittle shingles or tear up old roof paper. It can be a good option for homeowners who want to have their composition or asphalt shingle roof look like new, but are concerned about the potential environmental impact of high-pressure rinsing.
Algae spores are spread from airborne winds, birds and varmints to settle on your roof. Depending on your area, the best place for the algae to grow is at the northern exposure of your home since this area is exposed to less UV and dries last from morning dew and rain. Algae stains aren't harmful to your actual roof, but it does change the appearance of your home.
In order to remove the stains, you'll need to use a mixture of half water and half laundry strength bleach. The bleach will kill off the algae and moss while still being weak enough to not damage your shingles or roof. Using a hose-end sprayer will help you easily apply the solution. It's also a good idea to cover any plants that might get affected by the runoff of the bleach before you begin spraying.
Once the algae and moss are killed, you can use the hose-end sprayer to rinse off the solution. The rinsing will wash away the remaining residue and prevent the algae from growing back. If you want to prevent the re-growth of the stains, you can try using copper or zinc strips along the edge of your roof. When it rains, the water will carry the traces of the metal and kill any spores that were left behind.
You can also opt to install a new roof that's resistant to algae stains or have the existing roof treated with a biocide. This product can prevent the stains from returning and will extend the lifespan of your roof. If a full reroof isn't in the cards, you can also reduce the chance of moss and algae growth by keeping branches that hang over your house trimmed to increase the amount of sunlight that reaches your shingles.
When it comes to a home, the roof is often an overlooked aspect. The roof is one of the most important parts of your home, keeping you and your family safe inside. Having a clean and well-maintained roof is key to keeping your home at its highest value.
If your roof is covered in moss, algae, and lichen, this can block airflow and reduce the insulating properties of your roof. In addition, the growth of these organisms can also damage shingles and lead to expensive roof repairs. The best way to keep your roof in good shape is to have it regularly cleaned by a professional.
A dirty roof can cause your home to look neglected and unkempt, which can have a negative effect on its curb appeal. Stains and streaks on your roof are often caused by algae or moss, which can leave a dark color on the surface of your roof. This not only looks unattractive but can also increase your energy costs, as the dark stains absorb more heat from the sun.
Having a dirty and worn-down roof can also hinder your efforts to sell your house. Potential buyers may think that the roof is damaged and will not be able to protect them from rain and snowstorms. Having a clean, well-maintained roof will increase your chances of selling your house and ensure that it stays in good condition after you have moved out.
While it is tempting to skip regular roof cleaning, the money spent on a professional roof cleaning service will pay off in the long run. Having your roof regularly cleaned will extend its lifespan and help you avoid costly repairs in the future.